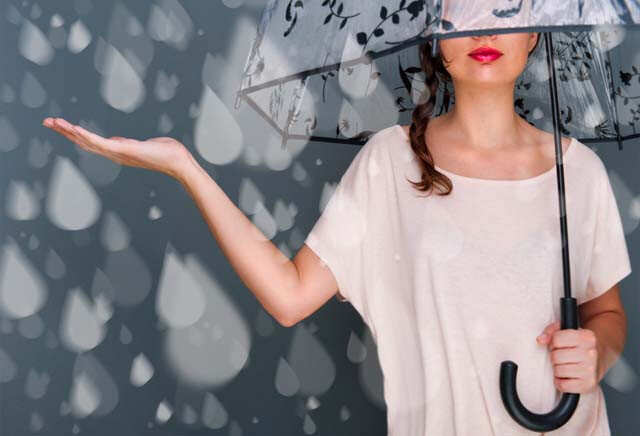 Image: Shutterstock
Like every season, the monsoon can be a boon or a bane for your skin. It can cause skin infections that can make you want to pack your bags and move to a drier region. Easier said than done, right? The culprits that cause skin problems during the monsoon are humidity, rainwater and the craving to eat hot, fried food and and indulge in steaming cups of your fave drinks. On top of it, skin infections take no time to spread!
Why does the skin behave strangely? The alternating dry and humid weather spells cause the skin to become oiler, making it becomes a magnet for dirt and bacteria, causing various types of outbreaks. The sweat leads to an explosion of infections and allergies.
Dr Rinky Kapoor, consultant dermatologist, cosmetic dermatologist and derma-surgeon, The Esthetic Clinics tell us more about some of these common skin infections and problems that you need to watch out for.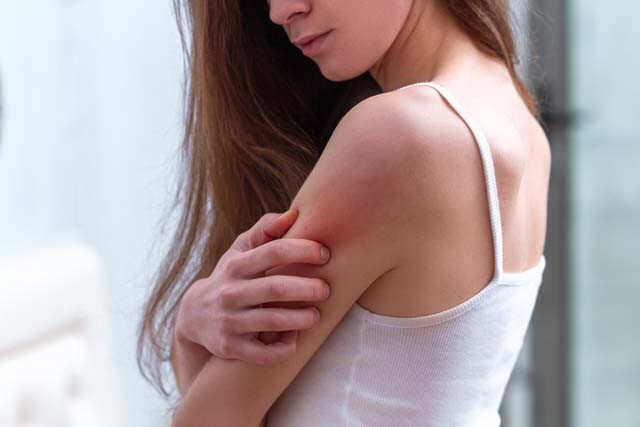 Image: Shutterstock
Eczema
Eczema causes the skin to become dry, red, and blistered and you feel that you need to itch it constantly. This happens because the fluctuations in temperature 'confuse' the skin and the skin barrier weakens.
Prevention: The trick is to keep the skin moisturised. Therefore use non-cosmetic moisturisers and natural solutions like using coconut oil. Use cleansers designed for sensitive skin and if you have a history of eczema then take the medication prescribed you your dermatologist on time.
Acne/ Pimples/ Blackheads
Dry, oily, or normal skin, every person sees a flare-up of pesky acne on their skin during the monsoon. This happens because of overzealous scrubbing and cleaning of the skin. Your skin feels oily so you tend to wash it more and it leads to other problems. Scrubbing of blackheads causes them to become inflamed and cause painful pimples.
Prevention: Choose skin products that suit your skin type, be it cleanser, sunscreen, or anti-acne medication. Be gentle to your skin and instead of using cleanser two-three times a day, wash your face with water. You can use home remedies like aloe vera, turmeric, and honey combinations to keep the skin balanced.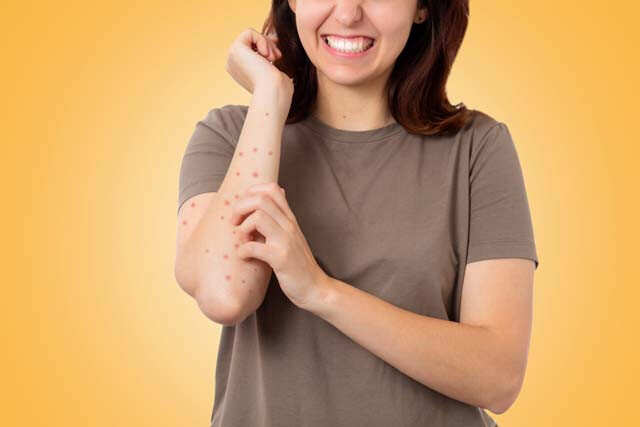 Image: Shutterstock
Scabies
This skin infection is caused when the skin remians in contact with contaminated water for a long time. The mites infect the skin. It is contagious, with symptoms such as itching and rashes. It can spread through shared towels, clothes, and personal belongings.
Treatment: Consult a specialist immediately and avoid any skin-to-skin contact with an infected person. Tea tree oil, aloe vera, and clove oil are simple home remedies for scabies.
Athlete's Foot
This is the itching, cracks on feet and discolouration of the toenails. A communicable fungal disease causes itchy white blisters and sometimes you might also experience a burning sensation in the cracks and blisters.
Prevention: Keep your feet dry and clean them every time you have come in contact with rainwater. Make sure that you clean and dry between the toes too. Use an antifungal powder and never wear wet shoes or socks.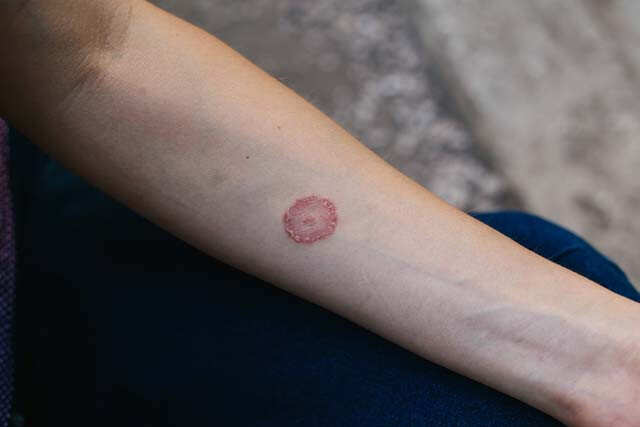 Image: Shutterstock
Fungal Ringworm
Itchy circular red patches on the neck, armpits, and soles of feet indicate the presence of fungal ringworm infection. This is caused because of humidity and sweat. This monsoon skin infection spreads through the fingernails when you scratch the skin.
Prevention: Use antifungal powder on the skin, switch to an antiseptic soap to clean the skin and wear dry clothes always.
Hyperpigmentation
This is monsoon-related skin problem that causes dry patches to appear on the skin especially the face. This happens because of the overproduction of melanin.
Prevention: Wear sunscreen. Yes, you need sunscreen even on a rainy day. Consult your dermatologist for laser and medications treatments to treat hyperpigmentation. Red onions, milk, tomato, apple are home remedies for hyperpigmentation.
Image: Shutterstock
Facial Folliculitis
This occurs due to the lack of cleanliness of the skin pores. The fungal and bacterial infection causes the hair follicles to become inflamed and folliculitis appears as tiny white bumps but can manifest into pus-filled blisters.
Prevention: Scrub your skin once a week to clean the pores, dry out the mask and gloves twice a week, and consult the dermatologist for the right antibiotic cream. For home remedies, apply a moist warm compress two to three times a day and avoid shaving and waxing the area for few days.
General Tips
Wear breathable clothing.
Wear mask and gloves while doing housework
Stay away from humid places and places that can cause allergies.
Avoid exposure to dust, animal fur, pollens etc.
Keep the skin dry and moisturised.
Consult your dermatologist and use the products approved by him.
Keep the skin hydrated.
Article Source - https://www.femina.in/beauty/skin/knowing-monsoon-related-skin-issues-will-help-you-avoid-them-198045.html