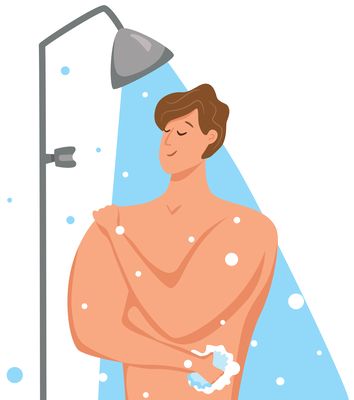 There comes a time in every rebellious consumer's life when you feel the need to "stick it" to the capitalist system and say to (some of) its products, "I do not need you." In many cases, it is to make a case for primitivism—to argue that many generations before us lived full lives without today's products.
With this spirit of defiance, I adopted the NoPoo movement—avoiding shampoo in order to let my hair's natural oils work their magic. The argument is that shampoos—particularly those using sodium laureth sulfate—strip away your hair's sebum, which is your body's own moisturising agent for hair and skin. Advocates of NoPoo say you should switch to non-sulfate shampoos or ditch shampoo altogether and replace it with water-only washing methods, non-silicone conditioners, natural alternatives, or the occasional baking soda and apple cider vinegar mix to clean scalp build-up.
In space, nobody can hear you scream, and similarly, under lockdown nobody can see your experiments without shampoo. While NoPoo has been around for years, the pandemic saw it regain popularity as curious and bored people tried it out at home, hashtagging #NoHairwash .
The pandemic saw nopoo regain popularity as curious and bored people tried it out at home.
Dr Rinky Kapoor, cosmetic dermatologist and dermato-surgeon at the Esthetic Clinics, Mumbai, says the verdict is still pending on NoPoo's effectiveness. She notes that in the olden days, routines were simple with less dirt, pollutants or styling trends that could harm one's hair—but that is not the case today. If you must go NoPoo, she says, try natural and safe alternatives like a light rye flour shampoo or solid shampoos with ingredients like green clay, argan oil and aloe vera.
Dr Nina Madnani, consultant dermatologist, P.D. Hinduja Hospital & MRC, Mumbai, has one question for those going without shampoo: Would you go without soap? "People forget that their scalp also is skin, except that hair follicles are much denser and larger. You are cleansing your body. For what reason are you not cleansing your scalp?" she asks.
In a 2013 paper, Madnani wrote that the hair cosmetic industry had undergone a revolutionary change over the last two decades, with the focus shifting from "merely cleaning" to repair, increasing the tensile strength, reducing oxidative damage, and stimulating growth. With the plethora of options on offer, you need to take up a trial-and-error approach instead of ditching shampoo altogether, she says.
Hair artist and filmmaker Sapna Moti Bhavnani, however, says that since her teen years, she has rarely washed her hair more than once a fortnight. "I have also been bleaching my hair since then and colouring it every shade of the universe, so active shampooing not only dried out my chemically processed hair but also faded my temporary hair colour," she says, but notes that she had not seen her "virgin hair" since the 1990s, so could not comment on how it would react to the NoPoo movement.
In my case, after two weeks, my hair developed better texture and required less fussing; it seemed my shampooing days were worse than the time I went without it.
Ultimately, there is no universal prognosis: Whether it's NoPoo or Pro-Poo, you need to find out what works for you.
Article Source - https://www.theweek.in/theweek/leisure/2021/06/10/the-nopoo-movement-asks-us-to-give-up-shampoo-will-it-work-for-you.html